ランチパスポートってご存知ですか?- If you want to enjoy a lunch time wisely...
ども!まいです。三連休いかがお過ごしですか???Hello this is Mai writing.
当館、武道館や東京ドーム からも徒歩圏内なので休憩がてらお越しくださいね!ちなみに地下鉄神保町駅A1出口が一番の最寄りですよん!
Now it is 3 day weekend in Japan so How is your holiday? I'm working everyday tho!Lol If you come to our place, using A1 exit of Jimbocho subway station is very convenience!!
突然ですが、、、
ランチパスポートってご存知ですか??
By the way, here is the very good new for pl living in Tokyo! Do you know "Lunch Passport"?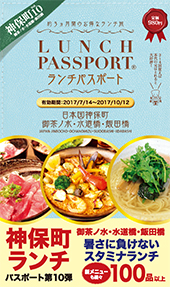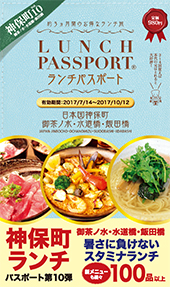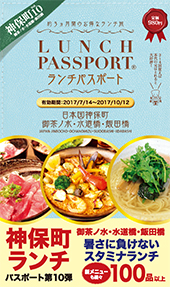 『以下ランチパスポート公式サイトより引用』
"ランチパスポートは掲載されている、通常700円以上のランチメニューが500円(税込、税別あり)で食べられる、とってもお得なランチブックです。和食、洋食、中華にカフェ飯まで、女性も男性も満足できるランチメニューが勢揃い。ランチタイム以外に夜も使えるお店や、週末も使えるお店もあります。日本全国80エリア以上で発売されていて、テレビ、新聞、雑誌などでも数多く紹介されていて、大人気のベストセラーとなっています。ランチパスポートで美味しく、賢くランチをたのしんでください。"
という感じでとにかくお得にランチが楽しめる魔法の本なんですね!
"The lunch Passport is a very affordable lunch book that you can eat lunch menu of 700 yen or more with a reasonable price ! Japanese food, Western food, Chinese food to cafe rice! It is released in over 80 areas in Japan all over the country and has been introduced in TV, newspapers, magazines. It is very popular and you can enjoy the lunch time wisely! Anyway, it is a magical book that you can enjoy lunch with great feeling!
しかもサクラカフェ神保町はランチタイムのみではなく終日使えるんです!土曜日だって日曜だって祝日だって利用可能です♪
Moreover, Sakura Cafe Jimbocho can be used not only for lunchtime but all day! Even Sunday even on Sunday, available everyday!
当カフェの掲載されているメニューは、
看板メニューの

サクラカレー

!!!!
The menu on which our cafe is posted is "Sakura curry "!
「よもだそば」特製のそばつゆを配合した 和風インドカレー。チキンもゴロゴロ入っててやみつきになる美味しさです! まろやかなのにコクがあります。結構ピリ辛だよ!
通常700円ですが、このランチパスポートをご利用いただくと540円でドリンク付き(コーヒーor紅茶)!!お得でしかないですね!!!!是非使ってみてね!
Japanese-style Indian curry with special soba sauce. Very rich taste with spice! Usually it is 700 yen, but if you use this lunch passport it becomes 540 yen with drink (coffee or tea) !
その他にもドリンク・フード・スイーツなど様々メニューあるのでそちらもチェケラ!!!
We have other menu as drinks, foods and sweets so check them out too!
????????????????????????????????????????????
インスタのフォローもよろしくね!!!
ゲスト達の面白エピソードなど写真と一緒にUPしてますよ♪
We upload blog twice a day but don't forget to follow our instagram! check it out!!
それではまたねん!!!Thank you for reading! Night night xxx